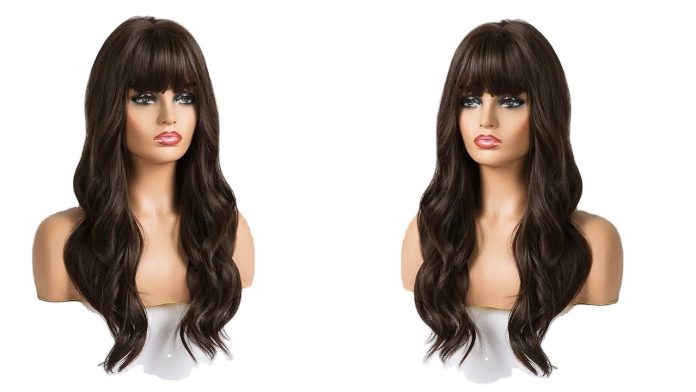 Brunette wigs bring the beauty of brown shades to your hair game that are available from range of light browns to deep chocolates. Think of warm cocoa or rich coffee colors. The brunette wigs can give you a natural look or a stylish change.
They're like a cozy sweater for your head – adding warmth and a touch of elegance to your style. Whether you're going for a subtle transformation or a bold statement, brunette wigs offer a wide range of shades to suit your vibe.
5 Features of a Brunette Wig
Natural Shades
Brunette wigs come in a variety of natural shades, from light caramel to deep espresso. They mimic the tones you'd find in real hair, giving you a seamless and authentic look. It's like having the perfect shade of brown without any fuss.
Versatile Styles
Whether you prefer long and flowing or short and sassy, brunette wigs offer a range of styles. From straight to wavy to curly, you can find the perfect texture to match your personality and mood. It's like having a hair salon right at your fingertips.
Timeless Elegance
Brunette shades are classic and elegant. They're like the little black dress of the wig world – always in style and appropriate for any occasion. Whether you're heading to a formal event or a casual hangout, a brunette wig adds a touch of sophistication.
Subtle Change
If you're looking for a change without going too bold, brunette wigs are your go-to. They offer a transformation that's noticeable yet natural. It's like giving your look a gentle upgrade that doesn't scream for attention.
Enhanced Features
Brunette wigs can enhance your features and complement your skin tone. The right shade can bring out the warmth in your complexion and make your eyes pop.
How to be Bold & Attractive in a Brunette Wig?
Vibrant Shade: Opt for a deeper brunette shade like rich chocolate or dark espresso for a bold statement. It's like wearing a bold lip color for your hair!
Edgy Style: Choose a wig with a trendy cut, like a layered bob or shaggy pixie. These styles add a touch of edge and confidence to your look.
Texture Play: Go for a wavy or curly brunette wig. Texture adds volume and attitude. It's like adding a cool texture to your favorite outfit.
Bold Makeup: Amp up your makeup game with intense eye makeup. Smoky eyes or bold eyeliner can add drama and make your eyes pop.
Lip Drama: Pair your brunette wig with a bold lip color, like red or deep plum. It's like adding a pop of color to your overall appearance.
Contour Magic: Use contouring makeup to highlight your features and create depth. It's like adding shadows and highlights to a masterpiece.
Defined Brows: Bold brows frame your face. Fill them in a bit more for a strong, confident look. Think of them as the frame for your beautiful face.
Bold Accessories: Big earrings or a statement necklace can complement your bold look and draw attention to your face.
Conclusion
So ladies, if you really want to make a bold statement in the public, here's a full guide explained to you. We're hoping that the next time you wear a brunette wig, your confidence boosts by 1000 times.